Below is detailed information about our academic calendar:
ESLA's academic year is divided up into four quarters, each of which is 12 weeks long.
| Quarter | Timeframe | Starting Date |
| --- | --- | --- |
| Winter | January – March | January 2, 2018 |
| Spring | April – June | April 2, 2018 |
| Summer | July – September | July 2, 2018 |
| Fall | October – December | October 1, 2018 |
Between each quarter there is a one week break.
Below you'll find all the important dates for each quarter, including tests, school activities and holidays.
Winter Quarter Important Dates
January 2
Winter Quarter Start Date
January 15
Martin Luther King Jr. Holiday (No classes)
February 8
Midterm Test
February 19
President's Day Holiday (No classes)
February 23
Field Trip
March 11
Daylight Savings Starts (Turn clocks one hour forward)
March 21
Final Test
March 21
Potluck Party
March 22 – April 1
Winter Quarter Break
Spring Quarter Important Dates
April 2
Spring Quarter Start Date
May 9
Midterm Test
May 24
Field Trip
May 28
Memorial Day Holiday (No classes)
June 20
Final Test
June 20
Potluck Party
June 21 – July 1
Spring Quarter Break
Summer Quarter Important Dates
July 2
Summer Quarter Start Date
July 4
Independence Day Holiday (No classes)
August 8
Midterm Test
August 23
Field Trip
September 3
Labor Day Holiday (No classes)
September 19
Final Test
September 19
Potluck Party
September 20 – 30
Summer Quarter Break
Fall Quarter Important Dates
October 1
Fall Quarter Start Date
October 8
Columbus Day Holiday Observed (No classes)
November 4
Daylight Savings Ends (Push clock back one hour)
November 7
Midterm Test
November 12
Veterans Day Holiday (No classes)
November 16
Field Trip
November 22 – 23
Thanksgiving Holidays (No classes)
December 19
Final Test
December 19
Potluck Party
December 20 – January 1
Fall Quarter Break
You're welcome to start classes at any time.  Many of our students join during the middle of a quarter, which is totally fine.  We've found that if you join a class in the middle of a quarter, it usually takes about a week or so to adjust to classes.  Just let us know when you'd like to start!
Here are all the courses offered this quarter:
Rowland Heights Campus Schedule (click to view larger)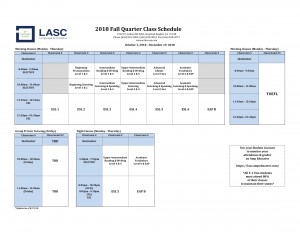 LA Campus Schedule (click to view larger)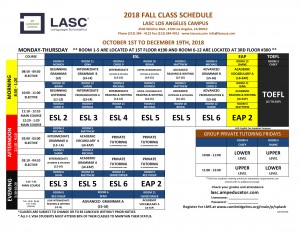 Irvine Campus Schedule (click to view larger)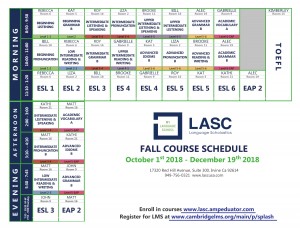 There are a few things to keep in mind while looking at the schedules.
Some of the electives have an A or an B after the name of the class. A and B versions of an elective are the same course, but they use different materials. If you pass the A version of a course, you don't have to take the B version; it is the same course.
ESL Level 7 is officially known as English for Academic Purposes.
You can view all our elective course descriptions here.
For more information on our programs, please check out the following pages: